Shore Board, C-Suite & Top Executive Placement
Established in 1960, Shore is the first Retained Executive Search firm in Mexico and one of the top Recruitment firms in the country with an unprecedented ethical reputation and one of the strongest networks in the country with offices in Mexico City, Guadalajara and Monterrey. Clients range from well established International and Mexican corporations, Companies with large Startup operations and Top Family Businesses in Transition.
Specializing in High Level Executive Searches, Board Members, Directors, Vice Presidents, CEO´s and C-Level positions, Shore also offers a unique consultative approach to both clients and candidates in a highly personalized manner, following up on all decisions and suggesting the best course of action well beyond the end of the hiring process itself. While the competition stops short at simply fulfilling basic requirements Shore, is also able to offer a wide range of additional and complimentary solutions focused on Business Transformation, Performance and ROI for its clients.

Solutions, Speciality & Industry Practice
Functional Expertise Search
Boards of Directors
CEOs
Corporate Affairs
IT Officers & Cybersecurity
Data Analytics
Executive Management
Sales & Marketing
Human Resources
Financial/Accounting Officers
Operations & Supply Chain Management
Production Heads
Legal & Compliance
Pharmaceutical
Industrial – Manufacturing
Automotive
Healthcare & Life Sciences
Professional Services
Consumer – Retail

Oil & Gas

Energy
Insurance
Financial & Private Equity
IT – Technology & Communications
Food & Beverage
Chemical

Hospitality
Solutions beyond Executive Search
Leadership & Board Advisory
Industry & Functional Search Practices.
Start-Up Operations
Diversity Talent Search
Talent Mapping & Assessment Center
Interim Executive Management Search
High Level Executive Roles​
Board Members
Chief Executive Officer (CEO)
Chief Financial Officer (CFO)
Chief Information Officer (CIO)
Chief Marketing Officer (CMO)
Chief Human Resources Officer (CHRM)
Chief Technology Officer (CTO)
Executive Officers other functional areas
Head of Global Operations
General Director
Country Manager
President and Vice President
Marketing Director
Sales Director
Director of Materials Management
Branch Director – Global Supply Chain

Competitive Advantages
Efficient Executive Recruiting
Guarantee that candidate will fit the right position.
Thorough evaluation of candidates who are ready to meet any business challenge
Solutions that add value
well beyond the investment made
Valor agregado que excede la inversión económica realizada
We place the ideal candidate faster than our competition without sacrificing quality
Offices in Monterrey, Guadalajara, Querétaro and Mexico City
Worldwide presence in more than 25 countries through 60 offices
Search Intelligence Proprietary Process to identify and attract the right candidates globally 
Six decades of close Relationships with the main players in the Market (Directors, Companies, Universities, Chambers of Commerce and other affiliates) 
Capacity to undertake highly tailored assignments
Understanding of the complexities and senior employment environment in each local market
Detailed knowledge of business and hiring trends as well as an unprecedented understanding of our client needs
Experience and Quality Assurance
We seek partnerships with our clients beyond a solution from a recruiting firm.
We are widely known for our Quality Assurance and Business Ethics.
We provide Total Confidentiality while headhunting
Highly Qualified and Specialized Consultants
60 years of doing Executive Search
Countless successful engagements across almost all industries and sectors

Methodology
Part of Shore Consulting Group
Our unique and innovative philosophy employs a close monitoring system that allows us to search, evaluate and recruit the best Executive Talent with the values and skills aligned to those of our clients. At an average duration of no more than 4 weeks we are able to present candidates that meet the specific requirements for each given position through our nine-step process: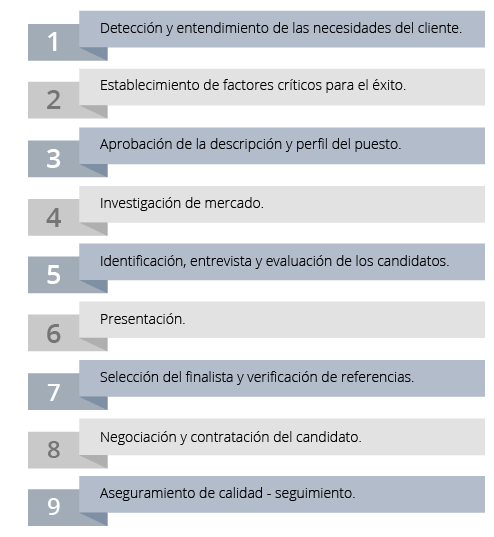 Part of Shore Consulting Group
We go beyond all common terminology such as High level Headhunter, High Level Executive Search Firm, Executive Placement or Executive Recruiter As we are part of the umbrella of Shore Consulting Group being able to offer a wider range of Business Solutions with an Assertive Portfolio of HR products for any situation a company may experience:   Management Buyout (MBO) Strategies, Family Business restructuring and succession, Organizational and Change Management, Talent Assessment, Development & Acquisition, Outplacement & Career Transition